Belgium- Cameroon: Mr Theodore POUFONG, the SDF Chairman in Belgium wonders the role of political parties in Cameroon during the actual anglophone crisis
August 12, 2017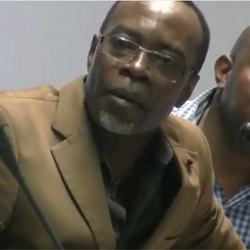 Paul Biya, the Cameroon's president sended last week a ministerial delegation to Belgium, precisely in Brussels, the capital of the European Union (EU), to meet the Cameroonian Community residing in Belgium. The meeting took place on Saturday 05 August 2017 from 4:30 pm to 6Pm in the ACP Secretariat room At 451 Avenue Georges Henri, 1200 Brussels.
The aim of this meeting was to provide the Cameroonian community with clarifications on the situation in Southern Cameroons. The delegation was made up of three personalities namely Tanyitiku Enoh Achuo, attaché in the services of the Prime Minister, Lejeune Mbella Mbella Minister of External Relations and Laurent Esso the Minister of Justice who has also been appointed as head of the mission.
As we've already published in our column, many protesters stormed into the room before interrupting and taking over the meeting, forcing the meeting facilitator to step aside.
After the police forcibly evicted the demonstrators from the hall, the meeting took place.
In the below  video, Mr Theodore POUFONG,Chairman of the SDF party in Belgium, during the Question and Answer session to the delegation wonders the role of political parties in Cameroon.
© Camer.be :
Hugues SEUMO
JetCamer - Information et telecommunication