Afrique: SEYDOU BADIAN Awarded Grand Prix des Mécènes 2017
March 13, 2018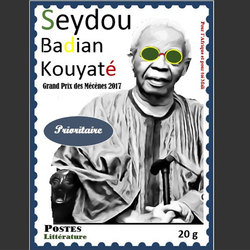 Seydou Badian Kouyaté, déclaré lauréat du Grand Prix des Mécènes 2017 dans la presse, est un homme de lettres né en 1928 à Bamako au Mali. Il est l'auteur du classique "Sous l'orage", mais aussi de l'hymne
national de son pays, intitulé "Pour l'Afrique et pour toi, Mali".
Le GPM 2017 sera officiellement décerné à Seydou Badian le 26 mars prochain à l'Institut Français du Cameroun à Yaoundé (15 heures), à l'occasion de la cérémonie des awards des Grands prix des associations
littéraires, cinquième édition.
Seydou Badian Kouyaté, anunciado como ganador del Grand Prix des Mécènes 2017 en la prensa, es un hombre de letras nacido en 1928 en Bamako, Mali. Es el autor del clásico "Sous l'orage" (Bajo la
tormenta), pero también el letrista del himno nacional de su país, titulado "Para África y para ti, Malí".
El GPM 2017 se otorgará oficialmente a Seydou Badian el 26 de marzo en el Instituto Francés de Camerún en Yaundé (15:00 horas), con motivo de la ceremonia de premiación de los Grandes premios de las asociaciones literarias, quinta edición.
Seydou Badian Kouyaté, declared winner of the Grand Prix des Mécènes 2017 in the press, is a man of letters born in 1928 in Bamako, Mali. He is the author of the classic "Sous l'orage" (Under the Storm), but
also the lyricist of his country's national anthem, entitled "For Africa and for you, Mali".
The GPM 2017 will be officially awarded to Seydou Badian on March 26 at the French Institute of Cameroon in Yaoundé (3 pm), on the occasion of the awards ceremony of the Grand Prix of literary associations,
fifth edition.
© Correspondance :
Palabre Intellectuelle
---
JetCamer - Information et telecommunication