PRESIDENTIAL PARODY DEBATE 2018: WHAT CREDIBILITY FOR CAMEROON'S OPPOSITION?
August 10, 2018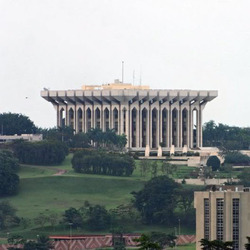 AS WITH THE VIRTUALLY UNCONTESTED ELECTION OF OCTOBER, 2018, WHAT ARE THE CAMEROONIAN OPPOSITION THE NAME OF? THE ONE THAT GOES PERPETUALLY TO THE SOUP OF PAUL BIYA, OR THAT WITH LEADERS WITH OVERSIZED EGO, ONE NOT EXCLUDING THE OTHER???
Even as they both agree and the most normally in the world, with the notable exception of Professor Maurice Kamto - with the political cleansing systematically conducted in the ranks of the power in place, under the guise of a judicial imposture pretending to fight against corruption.
More, Let's itemize the list of common attributes of this dictatorship: media owned by the leader's cronies; economy dominated by same; opposition politicians constantly harassed, prosecuted, or in danger of prosecution; state and religion hand in glove; judiciary pressured to comply with government's diktat; independence of educational institutions relentlessly subverted; corruption ubiquitous in state institutions; free markets victimized by political expediency; NGO's, such as the CL2P, scapegoated. And oh yes – almost invariably the country's woes get blamed on sinister outside conspirators, usually the West. You get the picture.
After all of this, this so-called opposition has no problem serving as stepping stone for the dictator's next triumphal reelection. This opposition has unfortunately lost all credibility and cannot claim any democratic culture...
If there is one overriding lesson to adduce from this it must be this: elections alone do not a democracy make. Elections without democratic institutions merely lead to elected dictatorships, indeed to a kind of mob rule. The fact that so many leaders get re-elected under such conditions should come as no surprise. If you control the means of communication with the public, while you intimidate and silence opposition politicians and media, and you monopolize the disbursement of employment, it's not hard to get re-elected.
But we have seen this script too often now to grant such systems the name of democracy. And here's the rub: they do represent a new kind of system, a codified approach to governance, one that can and does get replicated in disparate countries.
And unfortunately we must turn to the personalities held in arbitrary detention to glimpse, as in South Africa under Apartheid, the possibility of a peaceful and democratic alternative to the thirty-year dictatorship of Paul Biya.
The Committe For The Realise of Poliitical Prisoners – CL2P
http://www.cl2p.org
---
---
JetCamer - Information et telecommunication